Newt Gingrich: What's he 'exploring,' anyway?
(Read article summary)
No presidential exploratory committee is in sight, but Newt Gingrich said Thursday he will explore running for president. He may have just invented a new stage in the long announcement process.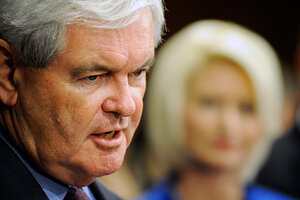 Mike Stewart/AP
Newt Gingrich on Thursday announced that he's going to explore running for president. He has set up a website, NewtExplore2012.com, where donors can give him money to fund this effort.
"We will try very methodically to lay out the framework for what we do next," said Mr. Gingrich, speaking to reporters at the Georgia state Capitol.
Well, it sounds like the former House speaker has taken a step toward his political future. But we're not sure exactly how big this step is, or in what direction he's headed.
IN PICTURES: Will these Republicans run in 2012?
In his brief remarks, Gingrich pointedly stayed away from the word "committee," as in "presidential exploratory committee." These are legal entities organized to raise and spend money on stuff such as polls and testing-the-waters travel. Gingrich is not forming such an organization – at least not yet.
Why do things that way? It kind of makes Thursday's statement an announcement that may have an announcement later about whether he'll have something further to say at some point.
"Just by him making an announcement to explore, it doesn't mean that he formally has to establish a committee," says Dave Levinthal, a campaign finance expert at the Center for Responsive Politics (CRP). "But it seems like he's moving in that direction anyway."
Gingrich already has established a number of other kinds of political action committees, notes CRP.
---