Newt Gingrich's attack on Paul Ryan backfires. Can his campaign recover?
(Read article summary)
Newt Gingrich's presidential campaign is off to a rocky start, as GOP lawmakers and conservative commentators force him to backpedal on health care and Rep. Paul Ryan's budget plans.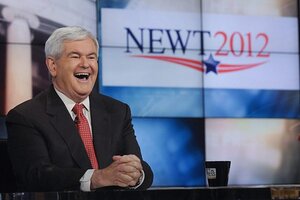 William B. Plowman / NBC NewsWire / Reuters
Newt Gingrich seems to be taking a page from Joe Biden's playbook.
Less than a week after announcing his presidential candidacy, Mr. Gingrich is playing defense on comments that most of his party find unacceptable.
In then-Senator Biden's case, the big story on the day he filed paperwork for his presidential candidacy was, instead, his remarks calling Barack Obama the "first mainstream African-American who is articulate and bright and clean."
Gingrich's remarks – attacking Republican Rep. Paul Ryan's Medicare plan and leaning toward an individual healthcare mandate – were less of the foot-in-mouth variety, but perhaps even more reprehensible to fellow Republicans, who have quickly fallen in step to reprimand the former House leader.
A few are already declaring the nascent campaign finished.
Now on the road in Iowa, where he hoped to be developing his campaign message, Gingrich is still answering questions about the Meet the Press comments he made Sunday, and furiously backpedaling.
To be sure, Congressman Ryan has faced criticism before about his budget proposal, passed earlier this year by House Republicans, turning Medicare into a voucher-like program. And Gingrich's comments may make it even easier for Democrats to attack his budget.
But in this case, the loser in the Ryan flap seems to be Gingrich, whose candidacy is being questioned by the very conservatives he's trying to woo.
---