Rick Perry comeback plan: 'fairer' flat tax, staffing gravitas, Iowa ad blitz
(Read article summary)
This week the GOP candidate beefed up campaign staff, releases a new TV ad in Iowa, and unveils an economic plan that features a flat tax. Is it enough for Rick Perry to climb back up in the polls?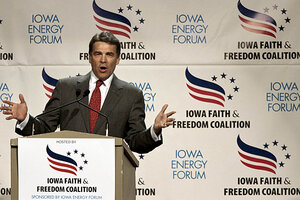 Nati Harnik/AP
Rick Perry is making an all-out push to persuade voters that his weeks-long decline in the presidential polls is only temporary.
This week he beefed up his campaign staff with prominent new hires, is releasing a TV ad in Iowa, and on Tuesday will unveil a new tax plan that does away with the current rates in favor of a flat tax on most earners.
The question is, will it be enough?
When the Texas governor entered the race in August, he jumped to the front of the polls, leading the field for several weeks, until a series of lackluster debate performances and other missteps contributed to a precipitous decline. In the latest polling average, Governor Perry trails both Mitt Romney and Herman Cain by about 13 percentage points.
But with many pundits predicting that Mr. Cain is peaking – that his money will run out and his controversial "9-9-9" tax plan won't hold up to scrutiny – Perry is trying again to claim a coveted place in the GOP primary field: the most viable candidate who's name isn't Mitt Romney.
It's a position Mr. Romney seems to think Perry is gaining on as well.
---