Herman Cain harassment allegations: why they're not Clarence Thomas redux
(Read article summary)
Anita Hill's allegations against then-Supreme Court nominee Clarence Thomas were explosive but lacked documentary evidence. The allegations against Herman Cain were reportedly investigated, meaning there could be a paper trail.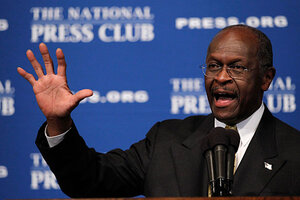 Jason Reed/REUTERS
Herman Cain – is he 2011's Clarence Thomas?
After all, today Mr. Cain, an African-American, is the subject of reports that female employees at a restaurant trade association accused him of sexual harassment in the 1990s. Twenty years ago, Supreme Court Justice Thomas, an African-American, was accused of sexual harassment by Anita Hill, who worked with him at a federal government agency.
The Thomas-Hill confrontation was a combustible mix of race, gender, and power relationships. It played out before a national audience in public testimony, leaving neither the accused nor the accuser unscathed.
In the end, Thomas was confirmed after enough members of the Senate Judiciary Committee decided there was no convincing proof of the allegations. In his own testimony, the future high court justice framed the process as "a high-tech lynching for uppity blacks who in any way deign to think for themselves."
On Monday, some Cain supporters were making an explicit comparison between the two cases. Conservative author and talk show host Ann Coulter said Cain, like Thomas, was the victim of a "high-tech lynching" due to his conservative beliefs.
Back in May, Cain himself had predicted in an interview with the Washington Examiner that liberals and Democrats would find a race-based way to attack him. He brought up Thomas as a point of reference.
"I'm ready for the same high-tech lynching that he went through," said Cain at the time.
On Sunday night, as the Politico story on the allegations of sexual harassment broke, the Cain campaign implicitly raised the Thomas experience again.
---