Ron Paul feud with Donald Trump: Who's winning?
(Read article summary)
Donald Trump said there's no way Ron Paul can win the presidential election. Ron Paul has called the planned Donald Trump-moderated presidential debate 'inappropriate' and vowed to skip it. Others might follow suit.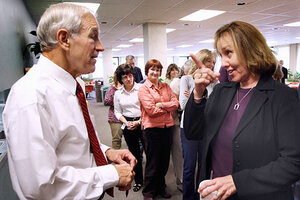 Jim Cole/AP/File
Ron Paul and Donald Trump are oil and water, fire and ice, Schwartz and Harbaugh. They're two people whose personal styles just don't seem to mesh.
Unlike most other GOP contenders, Congressman Paul hasn't flown to New York for a sit-down with the Donald and some sort of public meal. For his part, Mr. Trump for months has dismissed Paul as a candidate who has no chance to win the Republican nomination.
Now they're feuding over the fact that Trump is scheduled to moderate a GOP debate on Dec. 27. Will Paul attend? No. He's planning to be busy.
But the Texas libertarian didn't just check "Won't be there" on the RSVP card and send it back to debate sponsor Newsmax. He had his spokesman issue a scathing press release that made it clear Paul would rather triple the budget of the Department of Education than answer questions posed by the developer/reality show star.
"The selection of a reality television personality to host a presidential debate that voters nationwide will be watching is beneath the office of the Presidency and flies in the fact of that office's history and dignity," the release starts.
Among the words that figure in the rest of the text are "circus-like," "inappropriate," and "frivolously." You can figure out the rest from there.
Trump was on morning shows Monday promoting a new book and pushed back against Paul's criticisms.
---