Mitt Romney chooses theme song. Is 'Born Free' a good choice?
(Read article summary)
Mitt Romney has chosen Kid Rock's 'Born Free' as the theme song for his presidential campaign, but pundits wonder what he's trying to say with the choice.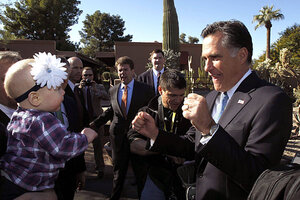 Ross D. Franklin/AP
Is Republican candidate Mitt Romney a little bit rock and roll? Is he hankering for a road trip? Does he secretly yearn to be governor of New Hampshire?
More likely, the buttoned-up candidate's just-announced choice of Kid Rock's "Born Free" for his campaign theme song is simply a patriotic play to the everyman. But pundits have been left feeling a bit underwhelmed.
The point of a theme song is to tell voters something about the candidate that isn't well, obvious. And so, this ditty presents a problem for the former Massachusetts governor. "What does 'Born free' tell us about Romney? Not much," says Atlanta-based Republican strategist David Johnson.
Romney will like that fact that Mr. Rock, like himself, is a Michigander. And Michigan could be a key swing state. Moreover, Rock's got the whole "cool patriot" thing down. The lyrics of the anthem run:
Fast, on a rough road riding,
High, through the mountains climbing,
Twisting, turning further from my home.
Young, like a new moon rising.
Fierce, through the rain and lightning.
Wandering out into this great unknown,
And I don't want no one to cry.
But, tell 'em if I don't survive,
I was born free!
---