Donald Trump to moderate GOP debate. But what if nobody shows up?
(Read article summary)
Billionaire and reality show host Donald Trump is scheduled to moderate a Republican presidential debate. But only Rick Santorum and Newt Gingrich have agreed to participate.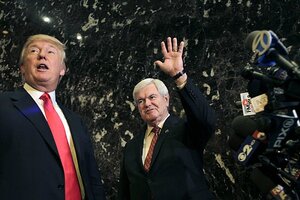 Seth Wenig/AP
What if they gave a debate and nobody came?
It hasn't quite come down to that for the Dec. 27 Newsmax/ION Television event scheduled to be moderated by Donald Trump – not yet, anyway.
But with just Newt Gingrich and Rick Santorum agreeing to participate and everybody else otherwise engaged, it's sounding more and more like that televised "debate" between Mr. Gingrich and Herman Cain some time back (which was more like the meeting of a mutual-admiration society).
IN PICTURES: The Donald who would be king
The latest to RSVP in the negative is Michele Bachmann, who'd already met four times with Trump and would be happy to have his endorsement. Rick Perry says he respects Trump "very much," but he's just going to be really, really busy with "traditional retail campaigning in the days and weeks leading up to the Iowa caucus."
Jon Huntsman and Ron Paul have dismissed the notion of answering Trump's questions as if they were competitors on "The Apprentice." (It may be worth noting here that Trump is a big fan of professional wrestling and has hosted WrestleMania events at Trump Plaza. I apologize if that brings to mind the image of Gingrich and Mr. Santorum in tights.)
---