Oops! Turns out Rick Santorum beat Mitt Romney in Iowa. Does it matter?
(Read article summary)
A new vote tally shows Rick Santorum won the Iowa caucuses by 34 votes over runner-up Mitt Romney. But aside from bragging rights, the shift in results is unlikely to affect the GOP race.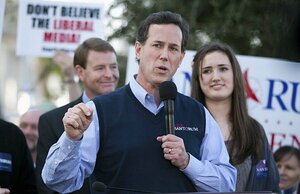 Chris Keane/Reuters
There are times when a few votes can make an enormous difference in a political race. Just ask Al Gore, who won the national popular vote in 2000 but likely lost the presidency over the Florida recount involving a tiny number of paper ballots. Hanging chads, anybody?
Such is not the case with the rejiggered results of the Iowa caucuses, except perhaps for bragging rights as the remaining Republican hopefuls prepare for Thursday night's debate in South Carolina.
Rick Santorum now can say he "won" Iowa. Mitt Romney can no longer claim to be the first non-incumbent Republican to have notched back-to-back victories in Iowa and New Hampshire.
For the record, here are the numbers – with one big caveat involving missing results from eight precincts.
Initially declared the winner by just eight votes out of more than 120,000 total, Romney now winds up 34 votes behind Santorum, according to party officials in Iowa.
But as Jennifer Jacobs, chief politics writer for the Des Moines Register, writes: "There are too many holes in the certified totals from the Iowa caucuses to know for certain who won."
Results from eight precincts are missing – any of which could hold an advantage for Romney – and will never be recovered and certified, Republican Party of Iowa officials told Iowa's leading newspaper.
"GOP officials discovered inaccuracies in 131 precincts, although not all the changes affected the two leaders," Ms. Jacobs writes. "Changes in one precinct alone shifted the vote by 50 – a margin greater than the certified tally."
---