Was Newt Gingrich really all that close to Ronald Reagan?
(Read article summary)
In GOP debates, Newt Gingrich has mentioned Ronald Reagan more than all the other candidates combined. A pro-Romney ad accuses the ex-speaker of exaggerating his relationship.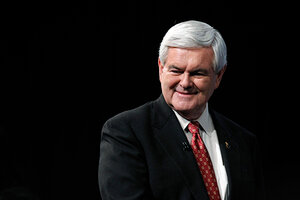 Matt Rourke/AP
Does Newt Gingrich have a Ronald Reagan problem? Specifically, by wrapping himself in the Gipper's mantle, is the ex-speaker risking criticism that's he's misrepresenting the past?
There's no doubt that Mr. Gingrich is the GOP candidate who's been most aggressive about portraying himself as a "Reagan conservative" (his words). He mentioned the late president just four words into his first answer in Monday night's debate, as New York Times polling analyst Nate Silver notes.
Over the course of the GOP debating schedule, Gingrich has mentioned Mr. Reagan 55 times, according to Silver. That's more than the rest of the Republican field, combined.
It's easy to see why Gingrich would do this. It's a way of painting his past service in Congress in a rosy glow. Reagan remains a beloved icon to conservatives, who make up the bulk of the pro-Gingrich vote. Why shouldn't Gingrich point out that they worked together and shared some policy beliefs?
Well, for one thing, it opens the door for Mitt Romney to try and portray Gingrich as a waterboy who's misunderestimating how well he knew the captain of the football team. In Monday's debate, Romney noted that the word "Gingrich" appears once in Reagan's diaries. Even that once is a negative, as it notes that Newt at the time is opposing some Reagan defense policies.
---