Could Mitt Romney lose to Rick Santorum in Michigan? (+video)
(Read article summary)
It looks like 'anti-Romney' Republicans in Michigan are coalescing around Rick Santorum as their candidate. Even on his home turf, Mitt Romney suffers from an 'enthusiasm gap' problem.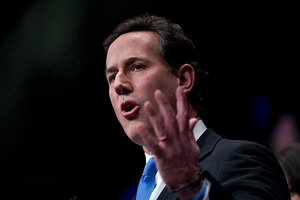 Evan Vucci/AP
Despite his trifecta of embarrassing defeats last week – losing to Rick Santorum in Colorado, Missouri, and Minnesota – Mitt Romney could look ahead to the upcoming primary schedule with some confidence. Michigan, on Feb. 28, should be his. He was born and raised there; in 2008, he won the Michigan primaries by 9 points.
Not so fast.
According to two new polls, Mr. Romney is now trailing Mr. Santorum in Michigan.
An American Research Group poll of likely Republican Voters has Santorum ahead of Romney 33 percent to 27 percent. (Newt Gingrich got 21 percent and Ron Paul 12 percent.)
And in another sign of Romney's "enthusiasm gap" problem, the most committed voters are the ones least likely to vote for him. Among voters who say they will definitely vote in the primary, Santorum leads Romney 36 percent to 25 percent. Among those who only say they'll "probably" vote, Romney comes out on top by 11 points.
Another poll, by Public Policy Polling, is even worse for Romney. It has Santorum leading Romney 39 percent to 24 percent. One critical factor in Santorum's surge ahead, according to PPP: Gingrich's nosedive. Increasingly, it looks like the "anti-Romney" Republicans are coalescing around Santorum as their candidate.
---