Maine caucus win gives Romney new momentum
Winning the Maine caucuses gives Mitt Romney a burst of momentum he hopes will carry him until the next major primaries in Arizona and Michigan, then Super Tuesday when 10 states hold elections.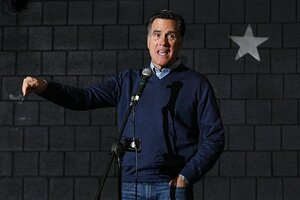 Robert F. Bukaty/AP
Mitt Romney's win in the Maine caucuses, announced Saturday evening, gives an added boost to what already was a good day for him. Earlier, he won the CPAC straw poll vote of conservative activists.
After losing three nominating contests to Rick Santorum earlier in the week – Minnesota, Missouri, and Colorado – Romney could claim (or perhaps reclaim) front-runner status even though none of the four state events were particularly relevant in the delegate count. And Maine is especially odd in that some precincts could keep on caucusing through February.
But the headlines will read a win for Romney – 39 percent for him and 36 percent for Ron Paul. Neither Rick Santorum, winner of the week's earlier three contests, nor Newt Gingrich actively campaigned in Maine. Santorum won 18 percent of the vote, Gingrich 6 percent.
Although he came in a very close second to Romney, Paul had hoped to win for the first time since the nominating contests began in Iowa last month. He has focused on caucuses, where his band of enthusiastic libertarian supporters might be expected to do well.
But in Maine, regional New England neighbor of the state where Romney was governor, the state's noted independence was not enough to carry the day for Paul. Still, the Texas congressman vows to continue.
---