Three weeks until Super Tuesday, but some states are already voting
(Read article summary)
Of the 10 Super Tuesday states, early voting is now under way in three: Vermont, Ohio, and Georgia. It begins in Tennessee on Wednesday. How early voting might affect the outcome.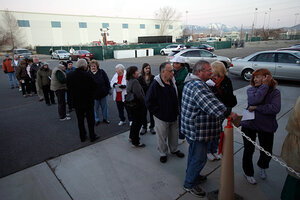 Ted S. Warren/AP
February is supposed to be the lull in the craziness of this year's GOP presidential primary, without a single contest between the Maine caucuses (which ended Saturday) and the Michigan and Arizona primaries on Feb. 28.
But Super Tuesday has already begun.
On Monday, early voting began for Georgia primary voters. The March 6 primary is three weeks off, but expect plenty of Georgians to vote between now and then.
Of the 10 states where voting takes place on Super Tuesday, Georgia is the one with the most delegates: 76.
But other states are significant, too. Ohio, another big prize, began its early-voting period last week. And Vermont's began even earlier, a full 45 days before the primary is held.
Tennessee's begins Wednesday, and Oklahoma will have a brief period of early voting just before the primary.
---