Is Rick Santorum facing a brewing 'women problem'?
(Read article summary)
Recent statements about women, and passages from his 2005 book, have put Rick Santorum on the defensive. Even within GOP ranks there are signs of a gender split.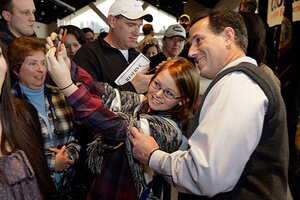 Ted S. Warren/AP
Does Rick Santorum have a women problem?
Or would he have one, in a general election?
Certainly not the way, say, Newt Gingrich might. Mr. Santorum has been married to the same woman for more than 20 years, and regularly talks about his devotion to her.
But increasingly, his statements about women – both in interviews and in his 2005 book, "It Takes a Family" – are raising eyebrows.
Last week, women in combat was the issue. Santorum told CNN's John King that he has "concerns" about women on the front lines, adding that "I think that can be a very compromising situation, where people naturally may do things that may not be in the interests of the mission because of other types of emotions that are involved."
Santorum later clarified that he was referring to the emotions of men, who may have emotions "when they see a woman in harm's way."
Among those who have objected to his statements is Virginia Gov. Bob McDonnell, a Republican, whose daughter served in Iraq. "I like Rick Santorum a lot. I just disagree with any inference that he might have made that somehow women are not capable of serving in the front lines and serving in combat positions," Governor McDonnell said on CNN on Monday.
---