Super Tuesday mystery: Will Ron Paul win his first state?
(Read article summary)
Super Tuesday could hand Ron Paul his first victory of the GOP presidential campaign. North Dakota presents the most fertile ground, with its caucus format and independent streak. Other promising turf: Alaska and Idaho.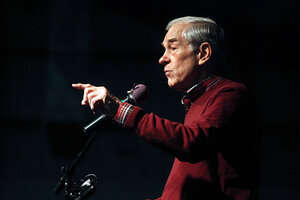 Matt Mills McKnight/AP
Ron Paul is hoping North Dakota will provide him with his first win in the race for the Republican presidential nomination.
North Dakota's caucus system makes it potentially fertile ground for the Texas congressman.
In states like Iowa and Maine, his followers have shown strong turnout and devotion in the tug-and-pull caucus process that involves speeches by advocates for various candidates, not merely pulling a lever in a booth.
It doesn't hurt that Mr. Paul himself plans to speak in Fargo, N.D., Tuesday to help make his case to the state's voters.
"We are excited to welcome back Ron Paul to Fargo and to North Dakota on this pivotal day for the state and nation," said Jared Hendrix, the Paul campaign's director in the state, in a news release.
So far, the candidate carrying the torch of libertarian views hasn't won a state outright. But that could change as of March 6.
Ten states are up for grabs, with the biggest delegate prizes like Georgia and Virginia seen by analysts as out of reach for Paul. Media attention in recent days, for example, has focused on the battle between Mitt Romney and Rick Santorum for Ohio.
---