Beyond Super Tuesday: Will calendar be kinder to a battered Mitt Romney?
(Read article summary)
Barring a major upset, Mitt Romney is still on track for the nomination. But Super Tuesday could have been a lot better for him, and the path ahead is daunting.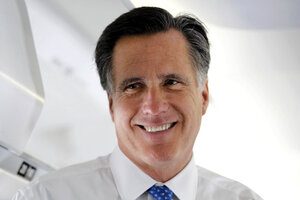 Gerald Herbert/AP
For Mitt Romney, Super Tuesday could have been worse – he did, after all, win 6 of 10 states, about half of the delegates, and some 40 percent of the popular vote.
But it also could have been a lot better.
Instead of wrapping up his nomination and convincing doubters that he can, in fact, win over conservative, Southern, and rural voters, he now looks to be entering a long slog into the spring before he can finally declare himself the GOP presidential nominee.
Yes, barring a major upset, Romney will still be the eventual nominee – but some Republicans are already worried about the toll that the repeated beatings will take on him, and what it will mean for his strength as a candidate in November.
Looking ahead at the rest of March and into April, the primary calendar isn't particularly kind to Romney.
The next three contests are in Kansas, Mississippi, and Alabama – all unfavorable territory for him. Hawaii and Illinois are coming up this month too, and should be safer states for Romney, but so are Louisiana and Missouri. The calendar doesn't get a lot better for Romney until April 24, when New York, Delaware, Connecticut, and Rhode Island vote (as well as Pennsylvania, Rick Santorum's home state).
---