Rick Santorum has had a good run. Where does he go from here?
(Read article summary)
To win the nomination, Rick Santorum needs 69 percent of the remaining delegates. Even a brokered convention may be elusive. After Louisiana on Saturday, the road ahead looks tough.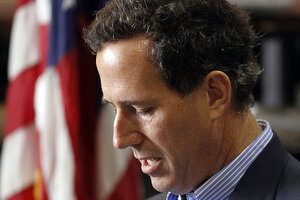 Gerald Herbert/AP
The upset Rick Santorum was hoping for in Illinois didn't come; instead, he lost to Mr. Romney by more than 11 points.
At this point, it's hard to envision anyone but Mitt Romney getting the GOP presidential nomination.
Yes, Mr. Santorum has had a better run than anyone would have predicted even a few months ago. He appeals to conservative Republicans, Evangelicals, and those who really, really want an alternative to Romney.
But the math is not in his favor. In order to get the nomination, Santorum would need to win 69 percent of the remaining delegates – something which simply isn't going to happen.
His other hope – which he and his team have become more vocal about in recent days – is doing well enough to deny Romney the 1,144 delegates he needs, thereby delaying the decision until the August convention.
But that possibility is also incredibly slim, and would require a major screw-up by Romney. Currently, Romney only needs to win 46 percent of the remaining delegates to get to the magic number – not a high hurdle. The implosion of Newt Gingrich's campaign (he got just 8 percent of the vote in Illinois) hasn't helped Santorum the way some predicted, and might make it even harder to keep Romney from steadily amassing delegates.
Moreover, it's not something most Republicans want.
---