Mitt Romney repudiates idea of using Jeremiah Wright against Obama
(Read article summary)
Mitt Romney spoke out Thursday after The New York Times reported on a plan to use the Rev. Jeremiah Wright's 'black liberation theology' – and his role as Obama's former pastor – to go after the president.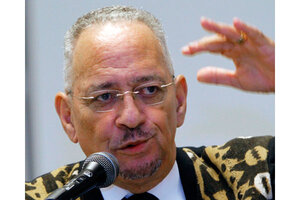 Rogelio V. Solis/AP/File
Don't go there. That, in essence, is the message Thursday from Mitt Romney, who said he "repudiates" an idea that was reportedly under consideration by an outside GOP group to run ads using the Rev. Jeremiah Wright Jr. to attack President Obama.
Since publication of The New York Times article Thursday describing the idea, the Chicago billionaire who was reportedly considering funding the $10 million plan has disavowed it.
But that news came after an explosive reaction across the political spectrum, from both the Romney and Obama campaigns, as well as political strategists and observers. And once again, the issue of race has been injected into the campaign.
During the last presidential campaign, videos of incendiary sermons by Mr. Wright, the president's former spiritual adviser, came to light. John McCain, the Republican nominee in 2008, refused to make Wright an issue and Mr. Romney, the party's presumptive nominee this year, is furthering that view.
According to Thursday's New York Times, Chicago billionaire Joe Ricketts was considering a $10 million ad campaign that would highlight Obama's former relationship with Wright, who espouses "black liberation theology." Mr. Ricketts, the founder of TD Ameritrade, and a "super PAC" he supports, the Ending Spending Action Fund, were considering various proposals from a group of high-profile Republican strategists, including this idea.
---