NYC primary: How strong a break with the Bloomberg years?
(Read article summary)
As New Yorkers vote Tuesday in the mayoral primaries, one question is how broad a coalition liberal Democrat and Bloomberg critic Bill de Blasio will build en route to his expected victory.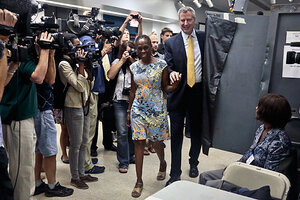 Bebeto Matthews/AP
New Yorkers are casting ballots Tuesday in a mayoral primary contest that has captivated the city and political watchers for its sheer mania.
Though the focus thus far has been on a wacky Democratic race, featuring former Congressman Anthony Weiner's sexting shenanigans and personal drama, voters will nominate a Republican and Democrat for the top job. And it's worth remembering that, despite the liberal bent of the city, the last time a nominee of the latter party was elected to mayor it was 1989.
Ascendant in the Democratic polls of late has been Public Advocate Bill de Blasio, who if he reaches the magic mark of 40 percent in the voting will secure the nomination. If not, the top two contenders will battle in an Oct. 1 run-off.
City Council Speaker Christine Quinn, who would be the city's first openly gay mayor and first woman to hold the position, was favored early, but she hasn't been able to connect with voters effectively. Bill Thompson, the city's former comptroller, is also running. They are each looking to land enough support to force Mr. de Blasio to vie in another round.
Mr. Weiner has fallen to a distant fourth place in recent polls. The emergence during the contest of more young women who said Weiner had engaged in sexually charged banter with them via cyberspace – a behavior he suggested he'd abandoned months prior – has proved a general distraction from a substantive discussion of the issues facing the city.
---