Q&A with economist Mark Zandi
Chief economist at Moody's Analytics and cofounder of Economy.com Mark Zandi, at a August 25 Monitor breakfast, discussed the housing market, the odds of the economy slipping back into recession, and what the Obama administration could do to help the economy in the near term.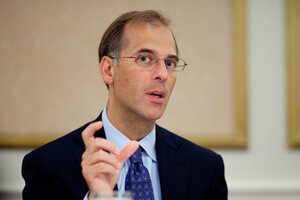 Michael Bonfigli/Special to The Christian Science Monitor/File
Economic expert Mark Zandi is chief economist of Moody's Analytics and cofounder of Economy.com. The Wall Street Journal called him 'the de facto chief economist to Congress.' He was the guest speaker at the Aug. 25 Monitor breakfast in Washington, D.C. Odds of the economy slipping back into recession:
"I don't think we will double dip, but it will be a close call. I put the odds at going back into recession in the next six to 12 months at 1 in 3…. If you had asked me eight to 12 weeks ago, I would have said 1 in 5."
The jobs outlook:
"In the very near term, the job market is weakening.... The unemployment rate is going to drift higher. If it is 10 percent come Election Day, I am not sure I would be surprised.... I do think we are going to get those 8 million jobs [the economy has lost] back, [but] certainly not next year. It will probably take five years to get them back."
Prospects for the housing market:
"The housing market is double dipping – sales obviously, construction, and I do think house prices will fall further.... If I had to put a number on it ... it is [a] 5 percent decline, further decline, in national house prices.... They are down 30 percent to date."
Response to House Republican leader John Boehner's statement that "all this stimulus spending has gotten us nowhere":
---
Follow Stories Like This
Get the Monitor stories you care about delivered to your inbox.