Gallup's pollster: Debt ceiling battle won't matter by Election 2012
Fight over the national debt ceiling is consuming Washington, but most Americans don't list it as a major concern. As a result, Gallup Poll's Frank Newport doesn't see it as a major campaign theme for Election 2012.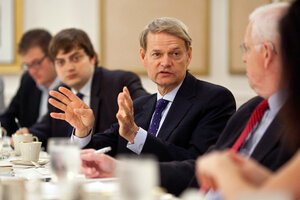 Michael Bonfigli/The Christian Science Monitor
The effort to raise America's debt ceiling and avoid a government shutdown is Topic A in Washington this muggy week in July, but the issue probably won't loom large in the 2012 presidential election, says one influential pollster.
That's because most people do not see the national debt and the federal budget deficit as top concerns, says Frank Newport, editor in chief of the Gallup Poll.
In frequent polling of Americans about their most important problems, "there is still relatively low mention of the debt and the deficit on the part of the American public. It's the economy and jobs which are the major issue," Mr. Newport told a Monitor-sponsored breakfast for reporters on Tuesday. "I still don't see the debt issue as a major campaign theme," he concludes.
It's hard to know whether such reports make members of Congress up for reelection next year breathe any easier about upcoming votes to deal with the looming debt-ceiling crisis. Republican lawmakers, especially, are worried about primary challenges from their right, as conservative advocacy groups seek to hold them to promises to seek spending cuts and to vote against any deal that includes tax hikes or new revenues for government.
---