Obama says 80 percent of public backs his debt ceiling option. Really?
Obama said Friday that 80 percent of Americans back a combination of spending cuts and new tax revenue to whittle the US deficit and end the debt ceiling crisis. Not according to polls.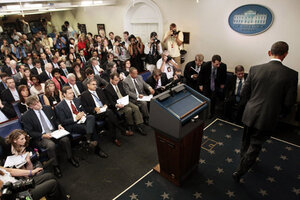 Pablo Martinez Monsivais/AP
President Obama made an arresting statement Friday, in an effort to nudge Republicans to reconsider their opposition to tax increases.
"You have 80 percent of the American people who support a balanced approach," to reduce federal deficits with new tax revenue as well as spending cuts, Mr. Obama said in a press conference. "That's not just Democrats," he emphasized. "That's [also] the majority of Republicans."
Is he right?
Technically, no, according to recent polls tracked by the Polling Report website.
The president is correct that most Americans, when asked how to solve America's budget problems, opt for a mixed approach rather than all spending cuts or all tax hikes.
But it's hard to find a poll where the tally in favor of a blended approach reaches 80 percent – and it's possible that the share of Republicans who lean that way is lower than 50 percent.
So Obama can point to public opinion as a kind of arrow in his quiver, but Americans aren't embracing his views by an 80-to-20 margin over Republicans.
Here's what the polls say.
The survey Obama appeared to be referencing in his comment was by Gallup, released Wednesday. US adults were asked how they'd like to see Congress tackle federal deficits.
At one end of the spectrum, 20 percent opted for "only with spending cuts." At the other end, 4 percent said "only with tax hikes." And 69 percent voiced support for something in between – mostly for either an equal mix of tax hikes and spending cuts (32 percent) or a blend emphasizing "mostly spending cuts" (30 percent).
---