Homeland Security chief slams critics of hurricane Irene preparations (VIDEO)
Homeland Security Secretary Janet Napolitano praised New York Mayor Michael Bloomberg Tuesday for the city's effective response to hurricane Irene.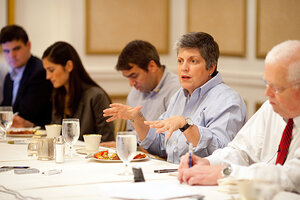 Michael Bonfigli / The Christian Science Monitor
Homeland Security Secretary Janet Napolitano said Tuesday that those who criticize preparations for hurricane Irene for being excessive are engaging in "what I like to call the blinding clarity of hindsight."
At a Monitor-hosted breakfast for reporters Tuesday, Secretary Napolitano was asked about grumbling over storm preparations in New York City where Mayor Michael Bloomberg ordered the city subway system shut down and low-lying areas evacuated. In the end, the city was spared from large scale flooding as a result of the storm.
"I think New York City did a great job – making those evacuation decisions, clearing the roads for responders, being very careful and knowledgeable about what kind of time it takes to safely evacuate, say a nursing home ... I would grade New York City very highly on this storm," Napolitano said.
Mayor Bloomberg was quoted by The Wall Street Journal as saying on Sunday, "We made exactly the right call" regarding the unprecedented evacuation of more than 350,000 people.
---