Joe Lieberman contradicts Sarah Palin: Where's evidence of insider trading? (VIDEO)
In a USA Today op-ed Tuesday, Sarah Palin charged that Congress is guilty of insider trading. Sen. Joseph Lieberman told reporters at a Monitor breakfast he's seen no evidence.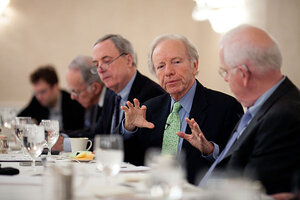 Michael Bonfigli / The Christian Science Monitor
Sen. Joseph Lieberman, chairman of the Senate Homeland Security and Government Affairs Committee, disagrees with Sarah Palin on whether there is proof that members of Congress are engaged in insider trading. But the independent senator from Connecticut agrees with her conclusion that legislative action on the issue is needed.
"I don't have any evidence that there is insider trading by members of Congress," Senator Lieberman said Tuesday at a breakfast for reporters hosted by the Monitor. But he acknowledged that in the wake of Peter Schweizer's book, "Throw Them All Out," and a "60 Minutes" segment on the subject, "a lot of people around the country including my constituents … think there is."
One such person is Republican political icon Sarah Palin. In an op-ed Tuesday in USA Today, the former Alaska governor said that thanks to Mr. Schweizer's book and the "60 Minutes" story, "we have concrete proof" to explain how members of Congress "accumulate wealth at a rate astonishingly faster than the rest of Americans and have stock portfolios that outperform even the best hedge-fund managers."
Palin charged that "the methods of unethical wealth accumulation for our permanent political class are endless."
---