Steny Hoyer: Neither party is spoiling for a fight over a government shutdown
The end of the fiscal year is typically a flash point for partisan battles, but not with a 'fiscal cliff' looming after November elections. Even GOP conservatives are accepting higher spending levels, rather than risk a government shutdown.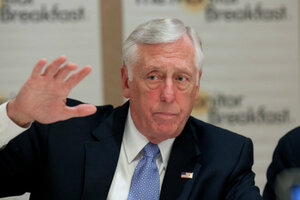 Michael Bonfigli/The Christian Science Monitor
America, do not worry: Congressional leaders say they don't want to shut the government down come Sept. 30, when the fiscal year expires. The question is, however, how exactly they're going to keep the doors open with only six working days in September, the month after Congress's month-long August recess.
"We have a very short time to do it," said House minority whip Steny Hoyer (D) of Maryland at a breakfast sponsored by The Christian Science Monitor on Wednesday. Hoyer said, referring to government funding, "I think the political judgment is going to be, 'Let's not fight about this.' "
With much attention focused on the year-end fiscal cliff and Congress enveloped in electric election-year debates over taxes, regulation, and health care, a potential showdown over government funding has gone largely under the radar.
That's in part because Republican leaders in the House – the seat of discontent about previous extensions of government funding – say they are going to keep the lights on.
"Our goal would be to make sure the government is funded and any political talk of a government shutdown is put to rest," House Speaker John Boehner (R) of Ohio told reporters on Tuesday.
---