The Foster Friess soundtrack: top quips from the GOP megadonor
Always colorful, Foster Friess, who helped finance Republican Rick Santorum's presidential bid, expounded on gay rights, taxing the rich, and the alleged GOP 'war on women' at a Monitor breakfast.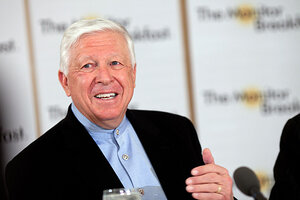 Michael Bonfigli/The Christian Science Monitor
Foster Friess made his fortune in the mutual fund industry, but he burst onto the political scene last year as a GOP megadonor to Rick Santorum's bid for the Republican presidential nomination. At a Monitor-sponsored breakfast with reporters Friday, the Wyoming-based Mr. Friess discussed the 2012 presidential campaign, gay marriage, his charity work, and a host of other issues.
But the man who once joked that "you know, back in my days, they'd use Bayer aspirin for contraceptives. The gals put it between their knees, and it wasn't that costly" has a unique way of getting his point across. Friday's event bore that out. Here are four top Friess-isms from his hour-long chat with the press.
The 2012 Republican primary – "For Democrats, this is a blood sport. For Republicans, this is a hobby, and that's why the Democrats run the government and the Republicans run the museums."
Friess added that he was in "awe, absolute awe, of the Democrats' ability to campaign and organize" during the 2012 campaign. This dawned on him when phone-banking in Nevada for Mitt Romney, when he was "dialing up a fellow, I wasn't quite sure I was going to pronounce his name right. And suddenly it dawns on me, 'Who am I, a white guy from Wyoming, trying to convince this fellow to vote for Romney when Obama has had people in his neighborhood having dinners and barbecues and telling him [to vote for the president] for the last four years?' "
---