Mark Kelly on gun control bill: 'We do have a problem' with many senators
The husband of former Rep. Gabrielle Giffords, an advocate of stricter gun laws, warned a fellow Arizonan of repercussions at the ballot box if he votes against a gun control measure to expand background checks. A lot of senators, said Mark Kelly, want a reason 'to get to no.'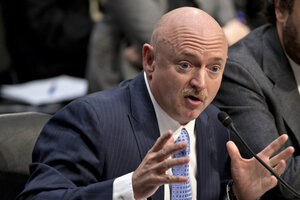 J. Scott Applewhite/AP/File
Mark Kelly, husband of former US Rep. Gabrielle Giffords, says the gun-control organization the couple has founded will work to defeat Sen. Jeff Flake (R) in the next election if the Arizona senator votes against expanding background checks to include more gun buyers.
Mr. Kelly, a retired Navy captain and astronaut, said Senator Flake is "a good friend" of Ms. Giffords. But he gave this warning Tuesday at a Monitor-hosted breakfast with reporters: "If there was the right candidate out there and he [Flake] didn't support this legislation,… you know friendship is one thing … saving people's lives, especially first-graders', is another."
On Monday, Flake posted on Facebook a statement that he will oppose the bipartisan legislation on background checks drafted by Republican Sen. Pat Toomey of Pennsylvania and Democratic Sen. Joe Manchin of West Virginia. The measure "simply goes too far," Flake said.
Kelly criticized Flake's action.
"Senator Flake's timing for his posting to his Facebook was not ideal in my opinion," he said. On Tuesday afternoon, Flake is slated to join Giffords and Kelly, along with Vice President Joseph Biden and House Speaker John Boehner, to dedicate a room in the House in honor of Gabriel Zimmerman. He was a member of Giffords's staff and was killed in the attack that gravely wounded her in January 2011.
---