Can AFL-CIO make inroads in Texas? Richard Trumka will try.
For the 2014 election season, the AFL-CIO 'will be in Texas in a bigger way than we have in the past,' Richard Trumka, the organization's president, said at a Monitor breakfast Thursday.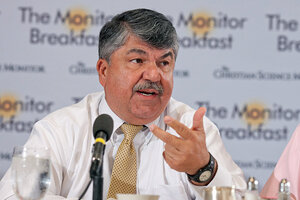 Michael Bonfigli/The Christian Science Monitor
As Labor Day approaches, here are some things on the mind of Richard Trumka, president of the AFL-CIO: The union movement is in a period of crisis, it prefers Janet Yellen as the next chair of the Federal Reserve, and its 2014 political efforts will target Texas, where unions have historically been weak.
Mr. Trumka voiced these views at a breakfast for reporters Thursday that was hosted by The Christian Science Monitor. The AFL-CIO is a federation of 57 labor unions with 12 million members. Trumka has been the organization's president since 2009.
Government statistics confirm his diagnosis that the labor movement is in "crisis." In 2012, the number of union members fell by nearly 400,000. Among wage and salary workers, only 11.3 percent are union members, down from 20.1 percent in 1983. In the private sector, only 6.6 percent of all employees are union members.
---