CBO director: falling deficit gives breathing room, not all-clear signal
The federal deficit is falling, but could begin to nudge upward again in 2015, according to CBO data. That means trimming the deficit is important but not urgent, the CBO chief said Wednesday.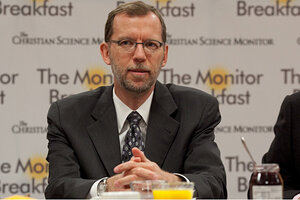 Michael Bonfigli/The Christian Science Monitor
Forecasts showing the federal budget deficit will decline for the next several years relative to the size of the economy gives the US "some breathing room" to deal with its fiscal problems, says Congressional Budget Office Director Douglas Elmendorf.
But Mr. Elmendorf, head of the nonpartisan office that provides budget information to lawmakers, added that "it would be a mistake to take that as a sort of all-clear signal" on the need to deal with the nation's budgetary challenges.
The CBO released its Long Term Budget Outlook Tuesday. It predicted that the government deficit in the budget year ending Sept. 30 will be $642 billion compared with more than $1 trillion in the previous year. The deficit this year is expected to be 4.0 percent of gross domestic product – less than half as large as the shortfall in 2009, which was 10.1 percent of GDP.
With revenues expected to rise more rapidly than spending during the next two years, the deficit is projected to fall to 2.1 percent of GDP by 2015 before beginning to climb again as a share of the economy. Key factors in the expected increase in the deficit after 2015, the CBO says, are the pressures of an aging population, rising health-care costs, an expansion of subsidies for health insurance, and growing interest payments on the federal debt.
At a breakfast sponsored by the Monitor, Mr. Elmendorf said "the federal budget is a very important problem but not necessarily an urgent one in the sense that the interest rates that the federal government is currently paying are quite low. The deficit is falling now."
But the Princeton and Harvard-trained economist added that, "one of the most important pieces of advice to people in their personal lives and people running their own affairs is not to neglect the important problems while chasing after the urgent ones." He said that one goal of the CBO's latest report is to help members of Congress "look ahead and address fiscal problems over a longer term."
---