Los Angeles in a stew over taco trucks
A new law could levy fines and jail time for taco-truck proprietors who idle.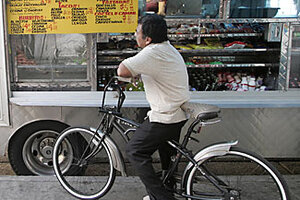 DANNY MOLOSHOK/REUTERS
Swarmed around Leo's Taco truck on Eagle Rock Boulevard, about 50 night patrons are stuffing their cheeks with carne asada tacos – and chewing over one of this city's big controversies: taco trucks.
"Why should a taco vendor be able to park in front of someone else's restaurant and steal his customers away with cheaper food?" asks one man, spearing pinto beans on a paper plate with a plastic fork.
"But making them move every hour is a bad idea," says another as he orders a veggie burrito. "How can a truck vendor keep loyal customers if he has to move so often?"
These patrons, like many Angelenos, are as hot as salsa caliente over new rules that go into effect Thursday – what to do with the 14,000 roving restaurateurs who have brought inexpensive entrees, a sense of community, intensifying competition for diners, neighborhood complaints, and a political brouhaha to the street corners of Los Angeles County.
The new county law makes parking a taco truck in one spot for more than an hour punishable by a fine of up to $1,000 or six months in jail, or both. It replaces a longtime but rarely enforced measure that fined trucks $60 if they stayed in one spot longer than 30 minutes. The law affects unincorporated areas of the city – where about 60 percent of the population lives – and includes East Los Angeles, one of the biggest concentrations of Mexican-Americans in the United States.
The five county supervisors passed the new regulations unanimously a month ago, saying the volume of complaints had reached critical mass in recent years.
With less-expensive menu items and lower overhead, the mobile kitchens were forcing established restaurants to close early and suffer losses, according to the East Los Angeles Chamber of Commerce and other business groups.
---