Why it was so hard to prevent Von Brunn's attack
The man charged with murder in the Holocaust Museum shooting gave clear clues about his hatred of Jews on the Web. But it's hard for law enforcement to filter anger from murderous intent.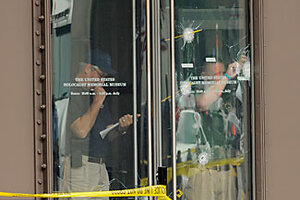 Mike Theiler/Reuters
James Von Brunn told friends he was down to his last dollar. He even tried to offload his computer – his main connection to the internet fraternity of American white supremacists.
They were subtle clues, far off the FBI's radar. But on Wednesday, the former PT-boat captain and long-time anti-Semite double-parked his car outside the Holocaust Museum and allegedly shot to death the guard who thought he was opening the door to an elderly visitor. Mr. Von Brunn was critically injured when other guards returned fire. He was charged with murder on Thursday.
Police in the US can track, but can't preemptively arrest or prosecute Americans simply for the kind of hate-filled commentary that Von Brunn specialized in on the web. But added to a spate of recent right-wing extremist acts, Wednesday's attack is likely to shift local, regional and national police agencies to more closely monitor the hateful chatter that feeds the violent fantasies of would-be domestic terrorists.
Going further, the FBI on Thursday openly asked the US public to assist the agency in the Von Brunn investigation, indicating a new vigilance on the part of the agency to thwart homegrown terrorists.
"Law enforcement's challenge every day is to balance the civil liberties of US citizens against the need to investigate activities that might lead to criminal conduct," said Joseph Persichini, Jr., assistant director in charge for the FBI's Washington field office, in a press conference.
The FBI acknowledges, however, that the real counterterrorism work in the US happens at the local and state level. Often facing adversaries who are keenly aware of their free-speech rights, the challenge is to energize law enforcement agencies across the country to make domestic extremism a leading priority, experts say.
---