For black America, Jackson was an icon who transcended race
Many African-Americans look past the controversies and cosmetic surgery to his achievements as a barrier-breaking musical star.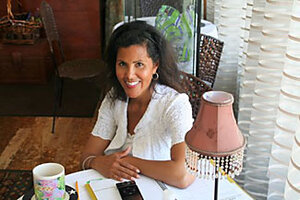 Dan Wood/The Christian Science Monitor
Sitting alone in a corner coffee shop in the heart of black L.A., Elisa Gomez Taylor explains why the black community is so endeared to Michael Jackson and why that endearment will probably never stop.
"His music reached out to every type of person around the world, and most of his message was about love and getting along and acceptance and respect," says the singer and songwriter. On Sunday night, Ms. Taylor watched the 2009 Black Entertainment Television (BET) Awards, which turned into a tribute show to Mr. Jackson, with host Jamie Foxx saying, "We want to celebrate this black man. He belongs to us, and we shared him with everyone else."
But, reflecting the contradictions of embracing a black icon who blanched his skin and altered his face, Mr. Foxx also joked, "Michael was all kinds of black. He was Wesley Snipes and Chico DeBarge at the same time."
Despite Jackson's cosmetic transformation and troubled personal life, it's hard to find African-Americans critical of him here – in part because many see him as a pioneer who transcended race, much like President Obama.
---