Guns at presidential events: encouraging extremists?
Gun-carrying protesters this week were far removed from the president. But the trend could require the Secret Service to change how Obama operates.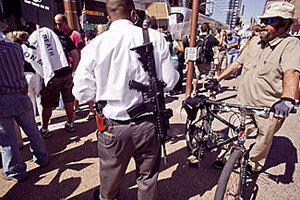 Jack Kurtz/The Arizona Republic/AP
The image of the lone gunman has discomfited America ever since the assassination of John F. Kennedy Jr.
This week, the appearance of weapons at rallies near President Obama in Portsmouth , N.H., and Phoenix chilled many Americans, even as the White House and Secret Service played down the threat, saying current security procedures are sufficient to protect "Renegade," the Secret Service's nickname for the country's first black president.
But behind the scenes, security experts say, the Secret Service is likely concerned. In a country where extremist anger has moved into the mainstream on some fronts, Mr. Obama and his ear-pieced protectors have to carefully walk a line between taking new threats seriously while protecting people's rights, including the constitutional right to bear arms. Indeed, assassination fears have dogged Obama's candidacy and presidency, making him the most protected president in US history.
---