Kids react to Tiger Woods apology. How can parents talk about it?
Sociologists and other experts weigh in on how parents can address Tiger Woods's fall from grace with their children.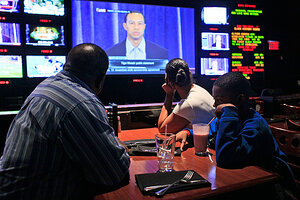 Mary Altaffer/AP
Standing on the putting green here at Balboa Municipal Golf Course, 14-year-old Terry Coulter and 11-year-old Sammy Greene are interrupted by the local Fox affiliate, which has come to gauge responses to Tiger Woods's 14-minute televised apology.
"I'm pretty bummed about it," says Terry, tapping in a three-foot putt. "Here was a guy sitting on top of the world because of the control he demonstrated on the golf course. Why couldn't that control cross over into his personal life? It makes him suspect to me."
"It doesn't bother me at all," says Sammy. "What a guy does outside his sphere of excellence is just not important to me. He can still be my hero and someone I want to be like."
The comments frame two sides of a debate that has erupted with Woods's 1,511-word apology Friday, read before a small gathering of friends and colleagues, but carried live across the globe.
He said, "I knew my actions were wrong, but I convinced myself that normal rules didn't apply. I never thought about who I was hurting; instead, I thought only about myself."
The world's most highly paid sports star is also the role model for millions of youths around the world, a topic that is now bubbling to the surface after months of Woods's silence about his infidelities.
No matter what your personal opinion of his extramarital behavior – or the way he has handled it publicly – the episode is the perfect "teachable moment," say a host of sociologists, relationship experts, and sports psychologists.
---