As gay marriage begins in Washington, opponents vow to fight
Gay marriage officially became legal in Washington, D.C. on Tuesday. Many same-sex couples embraced the opportunity to get married, but some opponents want to put gay marriage on the ballot through the District's initiative process.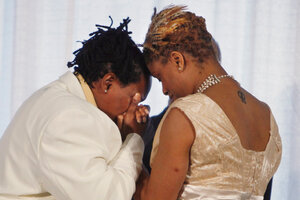 Jacquelyn Martin/AP
Gay rights groups celebrated the start of same-sex weddings Tuesday in Washington, D.C., but gay marriage foes say the issue is not yet settled.
Before the Washington City Council finalized its decision to legalize same-sex marriage last year, a coalition of the area's religious leaders tried to put the question to voters through a citywide referendum.
That move was blocked by the city's board of elections and later by the a D.C. Superior Court judge (The Monitor covered the ruling here). But same-sex marriage opponents are now trying to put the question on the ballot through the District's initiative process, which gives voters the opportunity to weigh in on existing legislation.
"It's not over in D.C. by any means," wrote Brian Brown, executive director of the National Organization for Marriage, on the group's blog. "The people of D.C. have a right, granted by Congress in their charter, to vote to overturn legislation passed by elected officials, just as people in many states (like Maine) have that right."
In an interview, Mr. Brown said a case over the initiative is pending in the D.C. Court of Appeals.
If the ballot initiative is allowed, many expect that voters would overturn gay marriage. Same-sex marriage has been defeated in the 31 states where the question was put to voters.
---