Conan O'Brien tour coming, but will he return to TV?
The Conan O'Brien tour, 'Legally Prohibited From Being Funny on Television,' will hit 30 cities while the comedian is contractually bound to stay away from TV.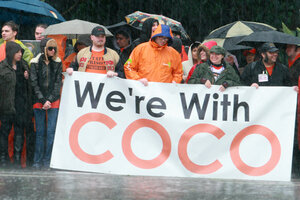 Newscom
Conan O'Brien's fans, fellow comedians, and other culture vultures are applauding the announcement that the former "Tonight Show" host will tour to at least 20 states and 30 cities between April 12 and June 14. The tour, as well as Mr. O'Brien's recent foray into Twitter, has media watchers split over what the comedian will do next.
"It was either a massive 30-city tour or start helping out around the house," O'Brien joked in a statement.
Some say the clear aim of the tour is to bring O'Brien enough exposure to get back to TV.
"What Conan hopes to accomplish with his cross-country tour is attract a huge enough interest to get him back on television with a plum deal," says Paul Levinson, media professor at Fordham University.
"Since he has no TV show nailed down with Fox or Comedy Central, this is obviously his way of keeping himself in front of the people," says Richard Goedkoop, a professor of communication at La Salle University in Philadelphia.
---