Inner-city Chicago charter school has perfect college acceptance rate
College acceptance: At Chicago's Urban Prep charter school, all male and all black, every member of the first graduating class got into a four-year college.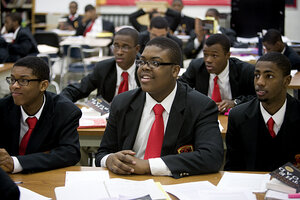 Melanie Stetson Freeman/Staff
In Chicago, the graduation rate for African-American boys is about 40 percent, and only about half of all students are accepted to some form of college. The chances of young black men going to college – particularly young men from the poorest neighborhoods – are not good.
But the Urban Prep charter school, located in the city's tough Englewood neighborhood, has produced a very different statistic. In March, this school, which is made up of young African-American men, announced that all 107 boys in its first graduating class have been accepted to a four-year college. Just 4 percent of those seniors were reading at grade level as freshmen.
It's a remarkable achievement for any urban high school, but particularly one with a population that some people are inclined to write off. It has educators examining what aspects of the school are responsible – and how replicable they are.
Some elements are easy to quantify: an extended school day that means students have an additional 72,000 minutes in school each year, a double period of English, and required extracurriculars and public service.
But many more elements seem embedded into a culture that is based on four R's, as founder and CEO Tim King describes it: ritual, respect, responsibility, and relationships.
"I say we give [the students] shields and swords," Mr. King says. "The swords are hopefully this great education. They know how to read and write and add.... Equally important, and perhaps more important, are these shields: resiliency, self-confidence, self-awareness.... Hopefully we have instilled these things, really woven them throughout the curriculum."
Even small things help, says King: For instance, the students are addressed formally, using their last name, and they wear coats and ties. (The young men swap their red ties for red-and-gold-striped ones when they're accepted to college.)
---