Found 'iPhone 4G' a rare breach of Apple secrecy
Photos and video of what is thought to be the next generation iPhone, or iPhone 4G, have ignited the Web. Was it lost or stolen?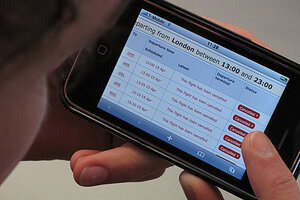 Marc Mueller/Newscom
A next-generation Apple "iPhone 4G" prototype? Left on the floor of northern California bar? Traded, photographed, and disassembled by tech gossip sites for all the Web to see? It sounds more Erin Brockovich than Apple.
But that very storyline has played out over the last two days, with the emergence of pictures and video of what is thought to be a preproduction version of the world's most popular smart phone. What's most surprising: that it's Apple at the center of this storm.
The company is famous for the control it exhibits. Its products, the iPod, iPad, and iPhone, are walled gardens, relying on proprietary software and guarded by guidelines that at times are accused of being overreaching.
Product announcements, too, occur within a controlled environment, away from the trade shows, at media events choreographed by CEO Steve Jobs and designed to drum up maximum media hype.
---