A new 420 meaning: time for pro-marijuana forces to get serious
In the past, the meaning of 420 – April 20, 'National Weed Day' – has been clear: 'Have a great time.' But this year, with the pro-marijuana movement making headway in several states, some 420 rallies are taking on a more serious goal: advocacy and education.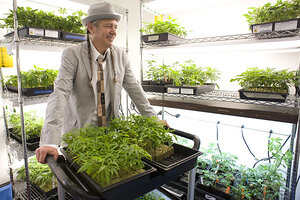 Newscom
The live music at the pro-marijuana 420 Rally in Denver was, perhaps, not much a surprise – with acts such as Tha Docta, Juba Juba, and Hypnautic on the playbill.
But the meaning of Denver's 420 event was calculated for a purpose beyond the "get high and party" occasion that "National Weed Day" – April 20 – has traditionally been.
Speakers included a former judge, who is now the speaker for Law Enforcement Against Prohibition (LEAP), as well as Warren Edson, author of a legislative amendment regarding marijuana use. Moreover, the event was to be conducted as a formal public assembly, with a benediction, keynote speaker, and closing.
The push to legalize marijuana is gaining steam, with California voting in November on a measure that would be the nation's first to approve the plant for recreational use, and Oregon and Washington State are attempting to qualify initiatives.
It is becoming a pivotal moment in the countrywide acceptance of marijuana use, say both supporters and detractors, and many pro-marijuana advocates are hoping that 420 can become a moment of more serious public advocacy and education.
---