Lettuce recall doesn't hide progress on food safety, experts say
The lettuce recall has many questioning the safety of US produce, but voluntary adherence to food safety standards has led to progress since the E. coli outbreak in 2007.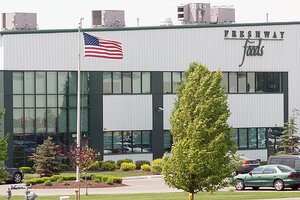 Luke Gronneberg/The Sidney Daily News/AP
The recall of romaine lettuce sold under the Freshway and Imperial Sysco names across the US points to the need for better food safety regulations and new legislation, but it is also focusing attention on America's strong record.
An E. coli outbreak possibly linked to tainted lettuce has reportedly sickened 19 in Ohio, New York, and Michigan, with cases reported on three college campuses. The Food and Drug Administration (FDA) is focusing investigation on lettuce grown in Arizona, according to the food safety advocacy group Safe Tables our Priority.
The outbreak – and the resulting concern about what is and isn't safe to eat – has some focusing on the progress made in food safety, rather than on fears.
"When you consider the macro view – the amount of food we process from farms to stores to stomachs daily to over 300 million people – I am frankly amazed at the limited number of recalls and sickness," says Greg Bonner, chair of the department of marketing and business law at the Villanova School of Business. "That is the reason why these outbreaks get so much attention when they do happen," he says.
---