Chicago to allow handgun ownership under revised gun law
Chicago's longtime ban on handguns looked poised to be shot down after this week's ruling by the US Supreme Court. A new gun law proposed Thursday allows handgun ownership but requires multiple steps to obtain permits.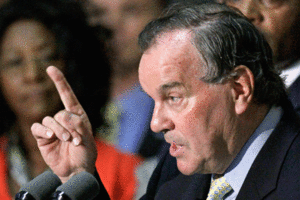 AP
Chicago Mayor Richard M. Daley is asking the City Council to enact a revised handgun ordinance in the wake of Monday's ruling by the US Supreme Court that jeopardized the city's 28-year-old ban on handguns.
The mayor says the revised ordinance will stand up in federal court, should it face a challenge. Early reaction from gun rights advocates is that they are relatively pleased with Chicago's latest proposal for regulating handgun ownership within city limits, with some caveats.
The Chicago handgun ban, the last of its kind in the nation, fell into a legal danger zone this week, after the Supreme Court ruled that the Second Amendment right to keep and bear arms applies to every jurisdiction in the US. The ban now faces a review by the Seventh US Circuit Court that will test its validity in light of the high court's decision, but legal experts, and Mayor Daley himself, expect that the ban cannot stand.
Daley wants the City Council "to move quickly to consider and enact" the redrafted ordinance, he told reporters Thursday. The council is expected to meet Friday to debate the measure and take a vote.
Gun rights advocates are "cautiously optimistic" about the proposal, says Alan Gura, a lawyer in Alexandria, Va., who was on the winning side in the latest Supreme Court case and in a 2008 case the resulted in the overturning of a handgun ban in Washington, D.C.
---