Ground Zero mosque clears hurdle, but firestorm far from over
The New York Landmarks Preservation Commission voted unanimously not to stop the demolishing an existing building – clearing the way for the Ground Zero mosque.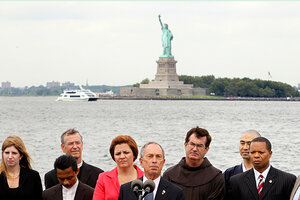 Seth Wenig/AP
The Islamic community that hopes to build a $100 million mosque and Islamic center near Ground Zero has cleared an important hurdle – approval from the Landmarks Preservation Commission to build on the site.
But that approval – which was expected – is not likely to end the controversy about whether the site of the mosque is offensive to people who lost their loved ones on 9/11 or whether the Islamic community has the right to build a place of religious worship where they want.
The issue has taken on national proportions with Republicans such as Sarah Palin and Newt Gingrich coming out in opposition to the mosque. It has become a part of the governor's race in New York with Republican Rick Lazio opposed to it and Attorney General Andrew Cuomo in favor. And, last week, the Anti-Defamation League, a leading Jewish organization, announced its opposition to the mosque at its proposed site.
"We had Islamic fundamentalists who killed 3,000 people at the World Trade Center site and are trying to kill more since then, so to have a Mosque at that site will stir up feelings – and antagonistic ones," says Douglas Muzzio, a professor of political science at Baruch College in New York.
---