BP oil spill imperils Cajun culture
The Cajun culture has a rich tradition with deep ties to the Louisiana bayous. But the BP oil spill's impact on the economy and the environment is straining those ties.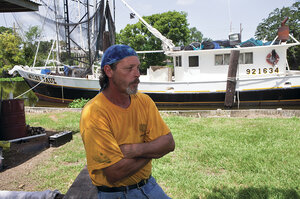 Melanie Stetson Freeman/Staff
Darren Martin is a third-generation shrimp boat operator – and as far as he knows fishing may be in his blood even beyond that. His family has been rooted in the small winding bayous of southwest Louisiana since the 1700s, when the Cajuns of French descent were exiled by the British from their native Acadia, now eastern Canada.
With such a rich connection to the land and water here, it would only be natural for Mr. Martin to want his teenage son to continue the family trade – pulling up seafood from the Gulf of Mexico and selling it at his family's stand across from their ancestral home in this quiet town of just over 3,000 people.
Yet after years of hardships ranging from hurricanes to floods to shrinking prices and now an oil spill, Martin has determined that commercial fishing, a cornerstone of Cajun identity, is dying and that "this generation," his own, "is going to be the last."
"Why am I still here?" he asks. "I don't want my son to do this. But I can't keep him away."
---