Bishop Eddie Long: Will case force open talk in black church about sexuality?
Bishop Eddie Long says he will fight gay sex accusations. But black theologians say the bigger issue for black churches is whether they can have a frank discussion about sexuality at all.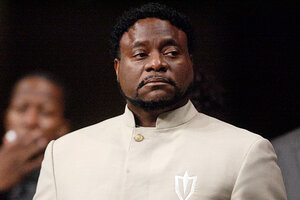 John Amis/AP
"I am not a perfect man," Atlanta pastor Bishop Eddie Long told his New Birth Missionary Baptist Church flock Sunday, after saying he would fight like David against Goliath the civil claims that he used his pulpit power to coerce four young male parishioners into having sex.
The charges are uncomfortable for Mr. Long and his sprawling, internationally-known megachurch in Lithonia, Ga., which he built from 300 to 25,000 members with a unique brand of "muscular spirituality."
But more critically, black theologians say, the megachurch leader's decision both to deny the charges and claim fallibility in the eyes of God is part of a pervasive "don't ask, don't tell" reflex in the black church, where outwardly stated condemnations inhibit frank discussions about sexuality of any sort.
It's a situation that leads many blacks, by force of culture, religion and tradition, to live double lives: one in the church, and one at home.
"The true tragedy is the black church and its persistent inability to deal openly and frankly with matters of sexuality before [a scandal] where what comes to the surface is that which is underneath," says Kelly Brown Douglas, author of "Sexuality and the Black Church," which was published in 1999. "We have to ask ourselves, what are the structures, the systems, that create these kinds of inhibitions that prevent people from being able to express who they are openly and feel comfortable about it in the black community?"
---