Food safety: How to keep our global menu off the recall list
As the food recall list grows and food imports flood into the US, it may be time to revamp America's 70-year-old laws on food safety.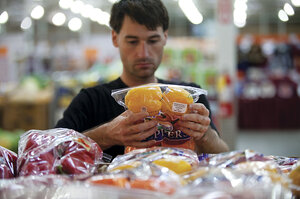 Melanie Stetson-Freeman/Staff
Boston, Beijing, Mexico City
It used to be that filling America's dinner plate was largely a domestic affair. Eggs came from nearby farms. The peanuts in the peanut butter on your sandwich were from Georgia. Apples hailed from Washington State.
Today, changing eating habits and food production mean that eggs are produced on American megafarms, sometimes 1,000 miles away, and served with salsa made from Mexican tomatoes and onions. Peanut butter could come from Canada. And while Mom's apple pie is still firmly domestic, most of the apple juice she serves is Chinese.
Although this globalized bounty remains among the safest food in the world, it is testing the limits of a creaky US food-safety system built on 70-year-old laws written before genetic engineering was invented, frozen foods had gone mainstream, or Interstate highways enabled a head of lettuce to make it – still crisp – from California to New York in the dead of winter.
In Pictures: The foreign and domestic food chain
Problems at single megafarms have sparked huge, multistate recalls. Imports flow over the US border in such volume that government inspectors are capable of inspecting only a tiny portion of it.
---