Don't wind your clocks back yet, America! When is daylight savings 2010, and why does it feel so late?
Every year, Americans and Europeans wind their clocks back one hour in the fall. So why did Europeans reset their clocks today, and when is daylight savings 2010 for Americans?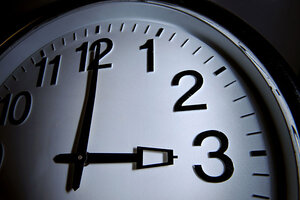 Newscom
Most Americans remember that daylight savings used to occur before Halloween, allowing them or their children the chance to head out in costume an hour earlier (a real plus on school nights). Something seems amiss this year, however. It's Halloween, and the last Sunday in October, but daylight savings time still isn't over.
So many are confused, in fact, that 'when is daylight savings 2010' is one of the top searches on Google this morning.
In 2007, the US changed the time we "fall back" from the last Sunday in October to the first Sunday in November. Halloween aside, this may seem even more confusing if you look online and see all the talk about turning clocks back this morning. Don't get confused. These bloggers are across the pond in the EU.
Yes, the EU still changes their clocks on the last Sunday of October.
Daylight savings time has a more tumultuous history than you may expect, and this isn't the first time the dates have changed. Also known as "summer time" in the UK and "war time" during World War II, the seasonal time change was a hot-button political issue for most of the 20th century.
---