Daylight savings ends: Time to 'fall back'
Daylight Savings Time ends in the wee hours of Sunday morning, so set your clocks back an hour. But where did this tradition come from?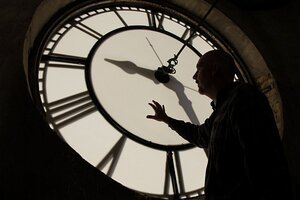 Charlie Riedel/AP
If you've ever wished you could have one hour back, tonight's your night.
At 2 a.m. local time Nov. 7 – the wee hours of Sunday morning – Daylight Saving Time ends for much of the United States. That means turning clocks back one hour for an extra bit of shut-eye or an extra chapter or two in that novel before hitting the pillow.
The "Spring forward, Fall back" ritual was codified in the Uniform Time Act of 1966. States can opt out, of course. Hawaii and Arizona have said no thanks to the time changes that kick in on the second Sunday in March and the first Sunday in November.
But the rest of the country, including the once temporally bifurcated Indiana, are now on board.
If the twice-a-year clock tweaking seems a bit of a hassle, don't blame Ben Franklin, the oft-cited originator of the policy. He did offer up a version, but as satire – a dig at folks in Paris who apparently didn't hew to the "early to bed, early to rise" mantra he crafted.
---