'Harry Potter' real-world appeal: quidditch leagues and rock cake recipes
The parallel universe of the Harry Potter books has launched real-life offshoots: A quidditch league is among the most visible, but the books' values are inspiring many others.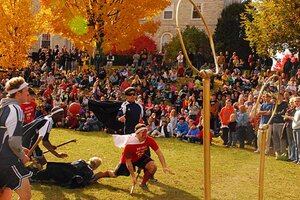 Kate Olen/Courtesy of Alex Benepe/IQA
As leaked bits of "Harry Potter and the Deathly Hallows, Part 1" throw online morsels to hungry fans, devotees of the Boy Who Lived and his pals know that though the books and films may conclude, the life inspired by J.K. Rowling's magical characters lives on.
Whether it's in fan fiction, quidditch leagues, or searching the galaxy for the perfect – and actually edible – recipe for rock cakes, the legions of Harry Potter lovers have taken that world to heart and pushed it back out into their own worlds.
This is due, in part, to the very particular sort of fantasy fiction the Potter books are, says Cecilia Konchar Farr, a professor of English at St. Catherine University in St. Paul, Minn. She uses the seven Potter books to teach literary theory.
"They are fantasy, but they do not create so much an alternate world as a parallel world," she says. This gives readers a sense that Harry and all his friends palpably exist right around them in their present world, she says. "This is not an escapist world, as perhaps the Narnia or even Lord of the Rings series are," she notes. Her students report that the books teach them "how to live in a world with terrorism, for instance," she says.
---