What's up with Michigan? US Census shows its population stuck in reverse.
According to the US Census, Michigan is the one state in the nation to see its population drop over the past decade. The steep decline in the auto industry is mostly to blame for driving people out.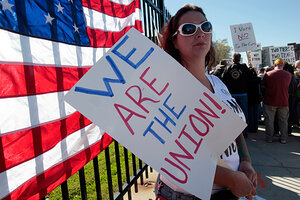 Rebecca Cook/Reuters
Michigan, whose labor force is heavily dependent on the slumping US auto industry, enjoyed the dubious distinction of being the only state in the nation to see its population decline in the past decade, US Census figures show.
An exodus of skilled labor and college graduates helped drive Michigan's population down. According to Census figures released Tuesday, it dropped by 54,804, or 0.6 percent, to 9,883,640 in November. As a result, the state lost one of its 15 congressional seats.
The decline runs counter to the regional trend in the Midwest as a whole, which saw population rise 3.9 percent. According to Bill Frey, a demographer and senior fellow at the Brookings Institution, one key explanation is Michigan's consistently high unemployment – it was 12.4 percent in November – which is driving educated and skilled workers out of the state by the thousands.
Five unusual Census 2010 facts
For example, between 2002 and 2005, southeast Michigan lost 61,000 jobs, or 2.9 percent, according to the Southeast Michigan Council of Governments, a research and advocacy organization located in Detroit. Manufacturing, which includes the auto industry, took the biggest hit with job losses at 58,000, or 16 percent, in that same time period.
---