Oprah Winfrey channel debuts Saturday, but is it time for a new network?
Oprah Winfrey, whose successful syndicated show is in its last season, is launching her new cable TV network OWN to start the new year. The move is a risky one, media analysts say.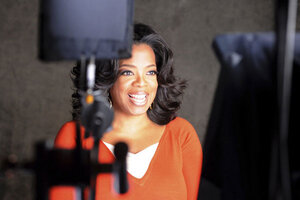 Courtesy the Oprah Winfrey Network
Television mogul Oprah Winfrey is known for being quick to jump on the latest pop culture trends.
But, with the debut of her very own cable network, OWN (for the Oprah Winfrey Network), it is clear that she is also abundantly patient with the things that matter to her most.
The idea reportedly first came to her back in 1992, when she jotted a memo in her private journal about the possibility of someday having her own network. On Saturday, New Year's Day, that dream finally comes true.
Beginning at noon Saturday, OWN – a joint venture between Winfrey and the Discovery network that replaces the Discovery Health Channel – will roll out a sneak preview of upcoming shows.
IN PICTURES: Barbara Walters' 10 most fascinating people of 2010
The lineup includes "Master Class," a celebrity interview series with influential figures selected by Oprah. Among the notables to be featured are Sidney Poitier, Diane Sawyer and Maya Angelou.
---