Oscar winners no one expected: mothers everywhere
Oscar winners dispensed morsels of wisdom in their thank-you speeches Sunday night. 'Listen to your mother' was the advice of Best Director Tom Hooper, who won for the 'The King's Speech.'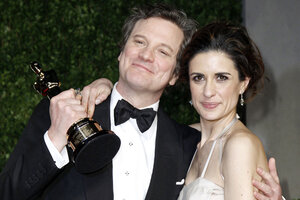 Danny Moloshok/Reuters
The 83rd Annual Academy Awards were chock full of little morsels of life wisdom from the winners' speeches. The evening was also a roadmap of where the business of both broadcast TV and the movies are headed.
Sunday's awards ceremony seemed to have an informal theme of "mothers' night" – beginning with the two young hosts' shout out to their mother and grandmother in the audience and topped off by director Tom Hooper's thank-you remarks, laughs pop culture pundit Robert Thompson of Syracuse University in New York. More than a few moms no doubt nudged their teenagers as they heard the director of the winning film, "The King's Speech," thank his mom and drop this bit of Hollywood wisdom: "Listen to your mother." His mom is the one who discovered the script at a staged play reading and phoned her son to say, "I've found your next movie."
ABC also took up valuable air time to affirm the importance of the Academy Awards to broadcast television, announcing it had signed with the Academy of Motion Picture Arts and Sciences for another nine years of Oscar telecasts. This underscores the importance of live events to broadcast television, says Mr. Thompson, noting the lesson that network TV executives took from the unprecedented audience – 111 million – that gathered for this month's Super Bowl.
---